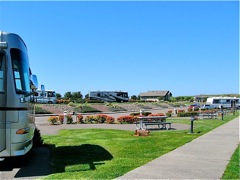 WINDING DOWN: More than 20 years ago we first published RVers Online as a unique commercial-free resource for RVers. At the time, the website name was somewhat of an oxymoron. No more! Today there are virtually unlimited resources available for RVers, with a myriad of options for getting specific questions answered. We've concluded it's time to wind down the publishing of this online resource, and we will discontinue our updates going forward. However, to preserve the many timeless resource articles we've published, and to accommodate the more than two thousands visitors we've accommodated daily over the past year, we will continue to leave these unedited materials online for a reasonable period of time, accessible through the Index on this page. Many of the articles are not time sensitive; and "Postcards" is a true chronicle of the RV lifestyle for those who may be contemplating such and adventure.
We've appreciated the amazing contributions of our readers over more than two decades. It's been a bit of work — but lots of fun sharing the RVing lifestyle with both experts and wannabes.
We wish you all happy trails!
Tom & Stephanie
From: Borrego Springs, CA
January 19, 2018