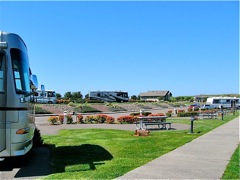 RVers Online is published as a public service information resource for RVers. With some 2,000 pages of non-commercial information, this site is based on "RVers helping RVers". Our goal is to provide an independent quality online experience for RVers, park owners, and others participating in the world of RVing. You will find no advertisements at this site, and nothing offered for sale.
We welcome you to browse our extensive library of RV-related information, including content that we've posted for our RV park owner readers. Our primary menu items are listed in the left column of this page. Below you'll find a search engine which can help identify the articles and information of interest to you.
We've recently added snippets and tidbits to our new supplemental site on Facebook...
See latest Postcard: "Two Days on the Road"
From: Florence, OR
July 28, 2017